MaxiTPMS ITS600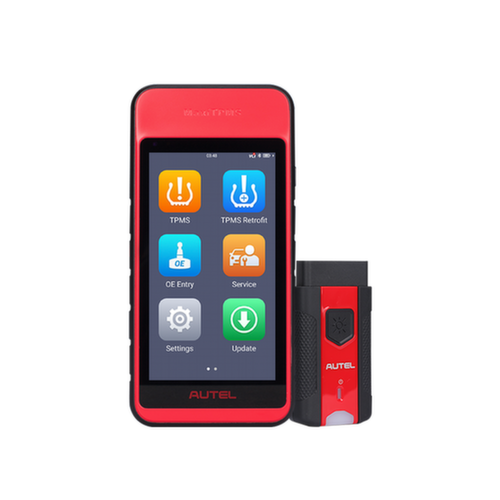 MaxiTPMS ITS600 is a wireless touchscreen Android tablet that offers TPMS diagnostic and service functions. The tablet has a 5.5-inch color display and a Bluetooth Vehicle Communication Interface (VCI). Compatible with US, Asian and European TPMS equipped vehicles, the ITS600 features an enhanced TPMS status screen, VINscan for quick vehicle identification, four MX sensor programming options, OBDII relearn functionality and on-screen relearn for all vehicles. It also provides DOT number scan, tire expiration notice and recall search access. The ITS600 is compatible with the TBE200 / TBE100 tool for analyzing tire tread and brake disc wear, sold separately.

• Advanced and at a glance diagnostic status screen.
• Quick OBDII relearn for most vehicles.
• Program MX sensors to replace 99% of OE sensors.
• Copy via OBD sensor programming for faster service.
• Four MX-Sensor program modes; batch program up to 20 MX sensors.
• Includes Wireless Bluetooth Vehicle Communication Interface (VCI).
• Tire pressure plate value reset.
• Read / clear TPMS system codes and view live data.
• Free Wi-Fi software updates for the life of the instrument.
• Quick VIN acquisition via optical VINScan.
• QR code scan / bar code scan, plate scan, automatic VIN detection and manual entry.
• Identify the MMY and OE part number of the sensor via VIN decoding.
• Oil light reset.
• Electronic brake service.
• Battery registration.
• Restoration of the steering angle.
• Included service feature updates are free for the life of the instrument.
• All system diagnostics and maintenance services software available with the purchase of Pro Upgrade.
• Quick and easy scanning of the tire's DOT number
• Tire expiration notice.
• Tire recall search.
• Tread depth and brake disc wear.
• Precise laser measurement of tread depth and brake disc wear with the purchase of Autel TBE100 / TBE200.
• Full test report: TPMS health, tread depth and brake disc wear characteristics and repair tips.
View gallery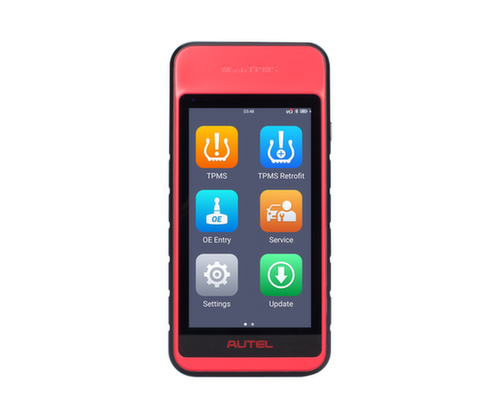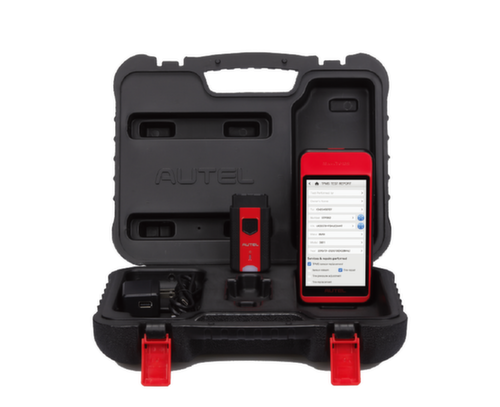 Recommended Use
Indoor
Operating System
Android™ 9.0
Processor
Quad-core processor (1.5 GHz)
Memory
1GB RAM DDR4 & 64GB ROM
Display
5.5-inch LCD capacitive touchscreen with 1280x720 resolution
Connectivity
• Wi-Fi
• USB 2.0, Type C
• BT
Sensors
Light sensor for brightness auto adjust
Audio input/output
Input: N/A
Output: Beep
Power and Battery
• 3.8 V/5000 mAh lithium-polymer battery
• Charges via 5 V AC/DC power supply
Battery Charging Input
5 V/2 A
Power Consumption
600 mA (LCD on with default brightness, Wi-Fi on) @3.8 V
Operating Temp.
-10 to 45°C(14 to 113°F)
Storage Temp.
-20 to 60°C (-4 to 140°F)
Dimensions (W x H x D)
183.0 mm (7.2") x 89.0 mm (3.5") x 22.0 mm (0.87")
Net Weight
368 g (0.8 lb.)
Protocols
ISO9141-2, ISO14230-2,ISO15765, K/L-Line, Flashing Code,
SAE-J1850 VPW, SAE-J1850PWM, ISO11898 (Highspeed, Middlespeed,
Lowspeed and Singlewire CAN, fault-tolerant CAN), SAE J2610,
GM UART,UART Echo Byte Protocol, Honda Diag-H Protocol, TP2.0, TP1.66

Comparison
ITS600
TS608

TS508-WF

TS508
TPMS & TIRE SERVICE
Worldwide Vehicle Coverage 99%, Always Up-to-date

•

•

•

•

Easy Vehicle Identification

•

(AutoVIN, VINscan, QR code/Barcode scan, Plate Scan, Manually select/input)

•

(AutoVIN, Manually select/input)

•

(Manually select)

•

(Manually select)
Activate, Read, Relearn All Known TPMS Sensors

•

•

•

•

Four Programming Options

•

•

•

•

Autel Sensor Batch Programming

•

(Up to 20 sensors)

•

(Up to 16 sensors)

•

(Up to 16 sensors)

•

(Up to 16 sensors)
OBDII Relearn / Automatic Relearn / Stationary Relearn

•

•

•

•

Relearn Procedure Guide

•

•

•

•

Exclusive TPMS Status Screen

•

•

•

•

Indicate sensor OE part number

•

•

•

•

•

Check MX-Sensor Information (ID, Battery, etc.)

•

•

•

•

Tire Pressure Placard Value Reset

•

•

•

•

Unlock TPMS ECU for old Toyota/Lexus, Integrated into OBD relearn

•

•

•

•

Test Remote Key Entry (RKE)

•

•

•

•

Read/Clear Codes for TPMS System

•

•

•

•

Special Functions (e.g. View Live Data for TPMS System)

•

•

DOT Scan, Tire Expiration Notice, Tire Recall Lookup

•

•

(Coming soon with Autel-cloud based app)
Test Report

•

•

•

(View on PC)

•

(View on PC)
DIAGNOSTICS
All System Diagnostics & All Maintenance Service
Free OLS, SAS, BMS, EPB;
Optional purchase of Pro Upgrade for All System Diagnostics & All Maintenance Service

•

Diagnostic Software Update
All System Diagnostics and Services updates is FREE for 1 Year with Pro Upgrade purchase.
New software updates for these features will require a new ITS600 Pro Upgrade purchase.
Annual Update Fee
SOFEWARE
OPERATING SYSTEM
Android 9.0
Android 4.4
HARDWARE
Display
5.5 inch TFT LCD-touch, 1280x720
7 inch TFT LCD-touch, 1024x600
2.8 inch TFT LCD, 320×240
2.8 inch TFT LCD, 320×240
Camera
8 MP
Flash / RAM / SD
64GB / 1G; SD card up to 64G (Optional)
32G / 1G; SD card up to 32G (Optional)
16M / 3M
16M / 3M
Lithium-ion Battery
3.8V/5000mAh
3.7V/5000mAh
3.7V/3200mAh
3.7V/3200mAh
Vibration reminder, Microphone voice remote assistance

•

ACCESSORIES
Tread Depth & Brake Disc Wear Examiner TBE200 / TBE100

•

(Sold separately)
Thermal printer

•

(Sold separately)
MaxiTPMS ITS600
Code:
MTP01XXXX0025
Quantity:
Availability:

not available