EQUILIBRATRICE SEC 3.0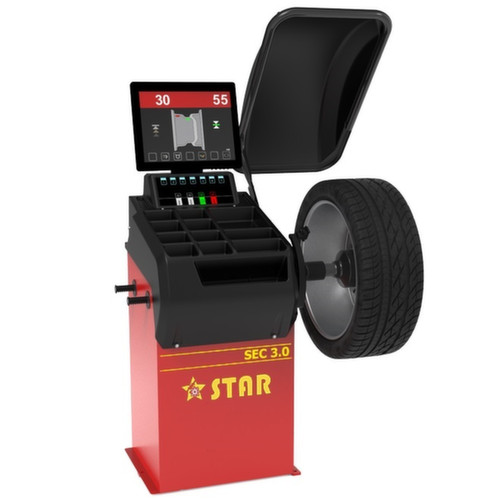 SEC 3.0 is an entry level wheel balancer equipped with MONITOR, with high performance. It was developed with the help of 3D simulations in order to maximize accuracy and versatility. The AutoAdaptive Mode system and the innovative Virtual Sonar software allows the absence of sonar to calculate the width of the rim.
• Manual locking by means of a quick nut.
• Automatic gauge to measure distance and diameter for rims up to 28 "with innovative gripper to hold the adhesive weight.
• Virtual Sonar for a 3D measurement of the wheel which, in the case of steel rims and in the absence of sonar, calculates the width of the rim.
• AutoAdaptive Mode - New tolerance recalculation system.
• Electric brake for locking the wheel in the exact point of application of the weights.
• All useful programs for the professional: SPLIT, OPT, ALU.
• 3D balancing mode in ALU-S - Adhesive weights on the planes inside the rim with specific indicator of the position of the counterweight.
• Latest generation VDD Virtual Direct Drive - Superfast and extremely accurate measurement system.
• Low balancing speed and wheel protection.
EQUILIBRATRICE SEC 3.0
Code:
AEQ01XSXX0058
Quantity:
Availability:

not available