EICMA 2021 - Tyre changer motorbike SA 30B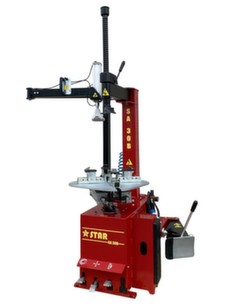 From November 25 to preview at EICMA

SA30 B, the new jewel of home Tosi

Tosi s.n.c. presents the new tyre changer for motorcycles


Lavaiano (PI) - 25 November 2021

Tosi s.n.c. - a leading company in the field of equipment for tire manufacturers and workshops based in Lavaiano, in the province of Pisa - presents at EICMA 2021 a preview of the new tyre changer for motorcycle wheels SA30 B.

CHARACTERISTICS

SA30 B is a semi-automatic assembly designed to operate on motorcycle wheels, scooters, go-karts, gardening machines, quads and wheels of major size. Its slender design makes it easy to handle, but the structure is also robust and this makes it perfect for working on tyres with larger widths.

SA30B is the ideal tyre changer both for workshops and for use on vans and race fields. Thanks to the traditional stall system, with specific blade for motorcycles, it adapts well to any type of tire. The self-centering plate, thanks to the new system of sleds and jaws, allows you to quickly and easily tighten wheels from 5" to 23".

TOOL POSITIONING - The horizontal positioning of the tool is obtained by means of a threaded handwheel. Operating on several wheels of the same size, the initial adjustment is maintained. With the simple operation of a lever, the tool is raised in relation to the rim and the shaft is locked vertically. As an option it is possible to install the quick turret change that allows you to install in a few seconds the turret suitable for the rim that we are dismantling.
SBK LOCKING SYSTEM - Unlocking system with slides made to design of our company with laser tube technology, for better cutting accuracy and an increase in mechanical strength. Thanks to the 5 adjustment holes, the locking accuracy increases and the possibility of operator error is minimized. The griffe structure has been reinforced and optimized in the spaces to minimize the forces in play. The locking system is equipped with plastic protections that are ideal for both road and off-road tires.



Compared to the traditional tyre changers, the SA30B is equipped with a specific pallet stalling machine of reduced size to ensure a perfect stalling of both the motorcycle wheels and the smaller wheels.

OPTIONAL - Thanks to the height-adjustable Bpl pad, the effort is limited when mounting the hardest tyres and with a low shoulder. The front heel is derived from the most performing tyre changers from the car and has a specific multi-purpose head that also helps in the disassembly phase to lift the tire.



"We are happy to celebrate our 15th participation at EICMA with this important innovation, the result of listening to customer needs and our continuous research and development work

- comments Antonio Tosi, Director of TOSI s.n.c. - Our product, moreover, is "Custom Made 4.0" because all our equipment are configurable and customizable by our customers. Some of our products also meet the requirements of Industry 4.0: we believe in the innovation of our industry and are proud to present our new product at a prestigious event known as EICMA".

For more information:

Tyre changer SA 35B
Press release to download in PDF format