TYRE CHANGER Q-BIKE
Motobike, Scooter, Go-Kart, Quad Professional Tyrechanger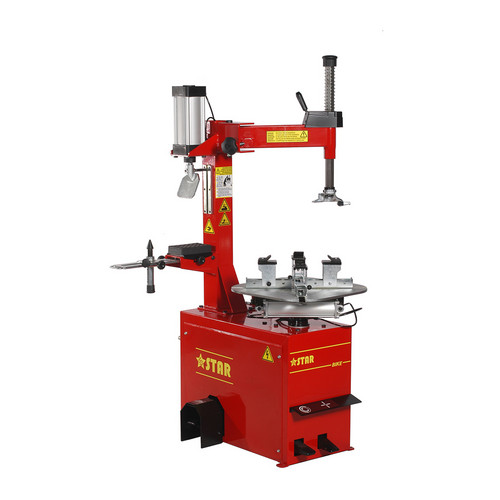 Q-BIKE is a professional semiautomatic tyre-changer with swinging horizontal arm, specially conceived for fitting/removing of motorcycle, turf, scooter, go-kart and ATV (QUAD) wheels.
The self-centering turntables locks rims from 5" to 23" thanks to 3 different clamping positions, which can be quickly selected, without using any tools, and rims from 6" to 16" using an AT V special clamping kit .
The turntable clamps have been realized for not damaging the motorcycle rims, as well as the special shape of the bead breaker blade. It is distinguished from other products for the special bead breaker position, situated on a horizontal side position, and for the vertical use of the bead breaker blade (guillotine), and to an embossed support positioned to the right height, to avoid the user's fatigue , above all in case of continuative utilization , during the tyre-rim detaching operation.
The bead breaker capacity has been increased to handle particularly high-profile tyres, as ATV tyres.
The bead breaker wheel support can be positioned in 3 different positions to reach maximum capacity of 370 mm (14,5") .
For easy use, standard supplied with plastic clamps protections, tyre lever, grease brush.
Produced in conformity with CE Security Rules.
TYRE CHANGER Q-BIKE
Code:
QBIKE
€ 0,00 (IVA incl.)
Quantity:
Availability:

available