The Midas Arona Arona Garage motorcycle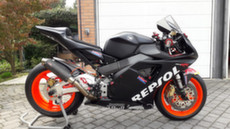 It will be exposed to Eicma PAD.22 M40 on our STAR SL500 bridge.
SL 500 is a motorcycle lift with a cantilevered front wheel stop to facilitate the positioning of the bike, with a manual vice in a lowered version as standard on all models. Sliding system on solid rollers and completely retractable slide to eliminate the encumbrance on the ground when the bench is raised. Pins complete with grease nipples and removable rear window to facilitate wheel extraction. Equipped with a non-slip aluminum central protection and standard storage trays. Equipped with a mechanical toothed safety rack.
More information on the bridge: http://bit.ly/ponte-SL500